Last Updated 28th March 2001
D.E.N. TRINITY
This page is composed by three gun enthusiasts in Hong Kong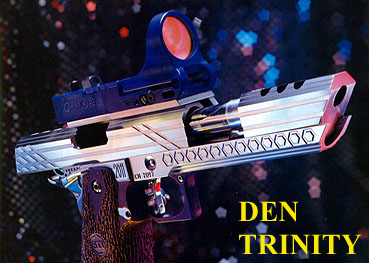 Smoking Hole Millennium Fighter 9X23


We provide excellent mail order service to overseas customers
News Update
Marui P90 AEG in News
CL Custom FN P90 AEG in Topics
FN M249 SAW AEG in Topics
RaymonD Au
Specialized in Colt Government Series
ClarencE Lai
Specialized in Guns' Custom works
NelsoN Chen
Specialized in Model Gun
About D.E.N. Trinity



We are members of TOP GUN SHOOTING TEAM, Hong Kong

since 1st Aug, 1998

Note
Custom guns shown in this website are either airsoft or model guns (Repilca).
Custom work done on those guns are within legal limit in Hong Kong.
May you have to customize your own gun, please consult professional gunsmith. Safe shooting!
Copyright 1998, 1999, 2000 by DEN Trinity
All rights reserved. No part of this site may be used or reproduced in
any manner without written permission of the author.
Limitation of Liability
The author will not be held liable for any advice or suggestions given. If the reader want to
follow a suggestion, it is at his or her own discretion. Suggestions are only offered to help.