CL Custom Smoking Hole Limited Class Race Gun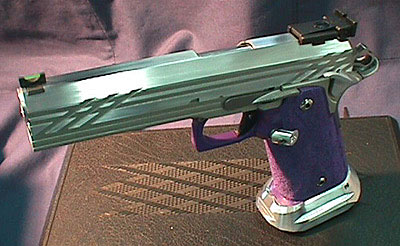 If you think STI Edge is the most beautiful pistol, think twice

Smoking Hole is a pistol design company located in the US. They specialize in real gun custom work and their design can be described by one word --"COOL". You may have already seen their work in magazines like American Handgunner (Sep/Oct 98) Japan Combat Magazine (Sep 98) but we can assure you this is your first time seeing a Smoking Hole airsoft gun.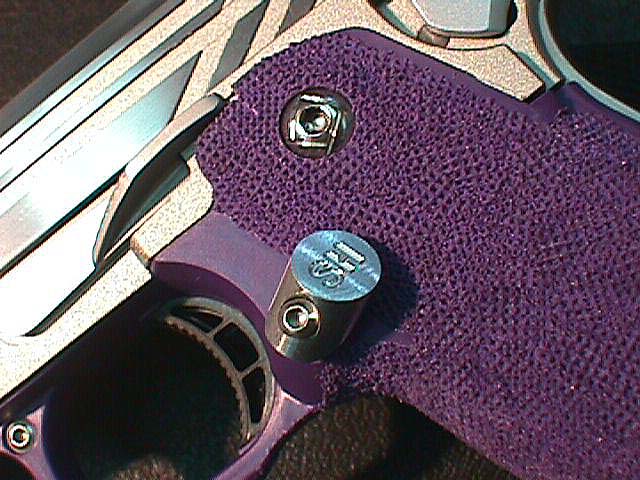 CL Custom grip screw, STI short trigger, Smoking Hole extended magazine release and Wilson Combat extended slide stop
Whole pistol is based on WA Hi-capacity system. The reason we say "system" is because nearly every parts of the gun are custom made from other sources and only the basic magna blowback mechanics are carried over with further perfection. Clarence took 3 months to complete this gun and every effort is put to make this gun looks good and shoots well. The fitting of frame and slide is extremely difficult. The stripe on the frame is machined with special care on angle. Eject port is squared and no single curve can be found on the port. Every parts you see in the table below are adjusted to some extent.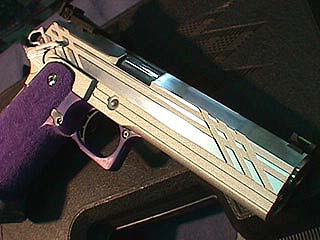 Designs of Smoking Hole is truly an art


On the frame, the purple STI grip is worth mentioning. Smoking Hole customizes the grip by reducing the size of the grip before putting special checkering on it, making the grip very smooth to hold. The Ed Brown grip safety is also filed for better gripping. Long dust cover receiver is made by joining two receiver together by soldering. Internally, trigger job and magazine release are modified, the trigger now have a trigger pull around 1 pound and the STI mag release have a perfect match with WA magazine.

The gun has internals to match, with its 6.03 inner barrel and trigger job, high accuracy and stability can be maintained. The problem is, given you have a beautiful like this in your hand, would you rather collect rather than using it?


Parts of Slide
| | |
| --- | --- |
| Silde | 7075 aluminium |
| Front Sight | Caspian Optical |
| Rear Sight | Bo-mar |
| Outer Barrel | Aluminium Bull Barrel |
| Inter Barrel | 111mm long with 6.03 inner diameter |
| Chamber Cover | Aluminium |
| Guild Rod | Aluminium |
| Reverse Plug | Stainless |
Parts of Frame
| | |
| --- | --- |
| Receiver | CL Custom aluminium long dust cover |
| Grip | STI purple custom by Smoking Hole |
| Trigger | STI short |
| Safety | Ambidextrous from MGC model gun parts |
| Grip Safety | Ed Brown |
| Slide Stop | Wilson Combat Extended |
| Hammer | Wilson Combat hammer sealed with KM sear connection |
| Magazine Release | STI with Smoking Hole extension |
| Grip Screw | CL Custom |
| Magazine Well | Smoking Hole |
| Magazine | Western Arms Hi-capacity |
| Magazine Bumper | SVI |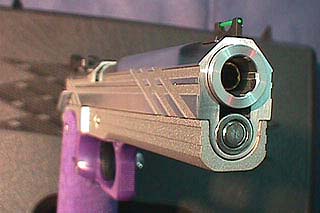 Hexagon style of slide with Caspian Optical Front Sight
MORE PICTURES
(it may take some time to load)
TAKE A LOOK TO THE REAL GUN
Back To Clarence's page