CL Custom Millennium Compact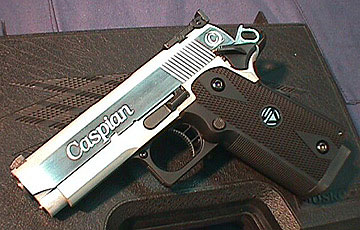 Millennium Compact, Classic silver slide and black grip
Gun fashion? What is it?
Gun fashion is something you may not notice. In recent years, carry gun is popular on the real gun market. Apart from early leader Glock, you may find nearly all manufacturers are making compact and light carry guns. Like SIG Pro from SIG Sauer, USP Compact from H&K, P12 from Para-ordnance and CS9 from S&W, they all share hi-capacity magazines and medium caliber (at least 9 mm). Compact autos are just like cellular phones, it must be light and compact for you to carry all day long. But instead of good reception, they must have good stopping power.
Millennium Custom is a company in the US which specialized in custom job. They build the race gun for IPSC shooter Todd Jarrett (Winner of 1997 IPSC Limited Nationals) with Para-ordnance. Until then, they still built many beautiful guns and I think this Compact is one of them.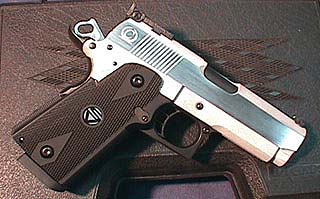 Right side is clean, you want to put your name on it?
Based on a Western Arms CQB Hi-capacity model. Clarence has made this Millennium Compact with the experience gained from Hi-capacity Officers he made a short time before. Compared with Hi-cap Officer, this Millennium Compact is longer and taller in size. It just fits in between Officers and Commander. A shorten 5 inches local made aluminium slide is combined with a frame which is reduced in height. Result is a full metal Compact which is really good in appearance.
As last time Clarence knows the trick on the shorten magazine, more time is put on the barrel. Original bull barrel is cut on the chamber side and it is widen inside. A normal barrel is shorten in length and reduced in diameter. Then Clarence put them together to form a single barrel. Spring housing is shorten to accommodate the shorten grip. Trigger job is improved on this Compact to make double tabs easier.
From outside, you can see the sand blasted frame and slide with polished sides on slide. Hammer is re-designed to give a better look and the safety switch on the right side is taken away. Shooting this gun is no different from shooting other Officers. Of course the trigger is better and the whole gun is smoother after custom work. It can achieve approximately 1.1J with Taiwan ET-1000 gas. I think this is ENOUGH stopping power for airsoft.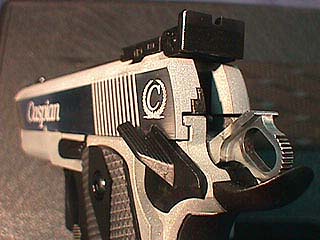 I still think this is THE best looking hammer
MORE PICTURE
(it may take some time to load)
Back To Clarence's Page