CL Custom M4A1 Carbine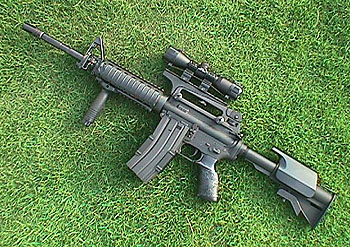 This CL custom M4A1 is no light gun after upgrade

You should have seen many CL custom AEGs. How come the M4A1 is not yet customized by Clarence you may ask. In fact M4A1 has too many accessories to attach. Proper mix and match is not an easy task. With Clarence's more than two decades of airsoft experience. This is the first CL custom M4A1 Carbine he would like to show you.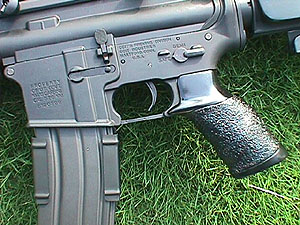 ZEKE M4A1 receiver has no "Colt" logo


Being a carbine, compactness is an important issue. Therefore Clarence does not touch this issue with any extended barrel or stuff. In reverse, he puts in many practical accessories which make this tactical weapon more tactical. RIS system provides a foregrip to the gun and a platform for laser and flashlight attachment in case of CQB use. Double magazine clip is an useful accessory as it shorten your mag changing time. You may wonder why the hi-mount scope base is not used. Clarence realized that in survival game, people usually wear masks. So he would rather mount the scope higher than normal in order to make the scope easier to view. Especially when masks are worn. Carrot Cheekpiece is installed to accommodate the risen scope.

After RIS fitted, no doubt the M4A1 will become front heavy. Therefore metal receiver from ZEKE is installed to balance the gun out a bit. Also the gun can be more rigid. The hand grip is from Carrot and it is extremely comfortable to hold. Note the thumb rest is available on both sides of the grip. For cooler look, flashhider is upgraded to Boltex flash Hider. It is the best looking flash hider we have even seen. Sticking such a flash hider to M4A1 Carbine is no different from the perfect match of Tom Cruise and Nicole Kidman.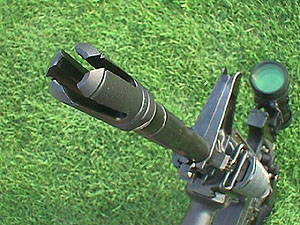 Cool looking Boltex flash Hider, four Spoke with twisted ports


Power wise, AEG001Moderate is applied. 400fps with 0.2g BBs is the mark and it is perfect for field use. We figured 450fps is a bit too much for this Carbine. AEG001Moderate brings a perfect balance between power and Rate Of Fire (ROF). Reinforced gearbox case is also installed. In our opinion, if you want trouble free gearbox after power upgrade, such a gearbox case is a worthwhile investment.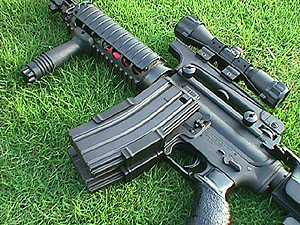 M4A1 is as tactical as MP5A5


This is not the only CL Custom M4A1 Carbine we can promise you. It is the first one and more will follow. M4A1 is a perfect base for modification purpose, either in appearance and in mechanism.



Back To Clarence's page