Infinity 6 inches long slide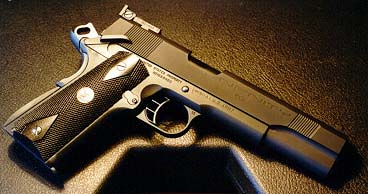 Infinity 6 inches long slide with Magna Blow-back
As WA released its Hi-capacity .45, popularity of double column Government keeps growing. We seems forgotten about the classic single column .45. As a matter of fact, Single and double column Governments give different feelings. I don't think double column will replace single column in future, as some states in the US has restricted magazine capacity to 10 rounds, the advantages of double column is not that much. Other than that, the width of double column frame does not favor conceal carry, and people with small hands. Visually, single column Government gives people a simpler feel.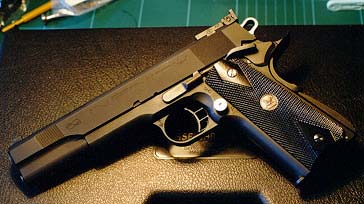 A custom Government for carry purpose
As Clarence wants to refresh people's memories, he therefore made this single column Government. Customizing Government is not an easy job as there are so many custom parts available, but putting them together to produce a distinct and eye-catching Government is not easy. So this time, a slide for 6 inches barrel is used. This metal slide is made in Hong Kong and only 3 are produced. The "Infinity" mark on the slide makes this slide even more distinctive. In fact, Infinity does produce 6 inches slide on special order. Bo-mar sight is mounted on slide and traditional bushing is used. Although bull barrel looks better, typical bushing and barrel do contribute to higher accuracy. No guard rod and magazine well are installed as it is designed as a carry gun, those items are canceled as we don't want to make the pistol too race looking. Frame and chamber, together with outer barrel are metal made. 6.03mm inner barrel is a must when customizing. The beavertail and double side safety is from WA. Combined with the black Wilson Combat wood grip, the all black colour of the pistol is soaked with combat feel. Performance? Experience 10mm groupings in five meters distance.
Back To Clarence's page