CL Custom Hbar Competition Rifle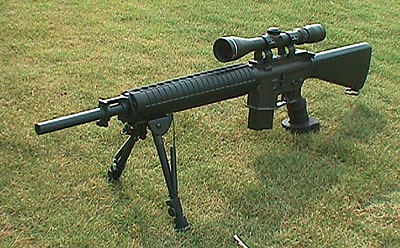 With the help of M4A1 body, M16A2 can be upgraded to this brilliant looking sniper rifle

A project rifle from Clarence Lai Custom Shop. M16A2 is in fact an understated rifle. After the release of M4A1, many airsofters seems to forget about its elder brother M16A2. In our opinion, M16A2 is a pretty good rifle indeed. It has EG1000 motor as standard. A rear stock which is capable of fitting a standard size battery up to 12v. The rifle is therefore very well balanced. Not to mention the long inner barrel which brings accuracy and power to the highest.

This CL Custom Hbar Competition Rifle is based on a M16A2. M4A1 detachable upper receiver is used to accommodate the Redeagle 3~9 X 40 scope. A higher mount assists aiming and no additional cheek piece is needed. Note that the front sight is filed away to allow clear view to the scope.

| | |
| --- | --- |
| Front sight is "saw-off" to give way for 3~9 X 40 Scope | This Systema Outer Barrel not only solve barrel wobbling problem, the foregrip section is much more rigid. |

Talking about best sniping, a Harris style bipod is of course standard in this competition rifle. Clarence also installed a PSG1 style grip to this gun. This grip accommodates the original EG1000 motor and aids resting of you hand. A 190rds hi-capacity magazine is there to give this gun a better look.

Internal upgrade is AEG001 Plus. Power is 460fps using 0.2g BBs. Rear stock can accommodate a 9.6v standard size battery. Thus ROF is maintained even the power is upgraded. Barrel wobbling is a major problem of stock M16A2. So Clarence uses a Systema outer barrel to solve this problem. Unlike other barrel reinforcement, this Systema barrel unit is a full allumium tube which connects the front sight section to the receiver. The barrel is now much more rigid after this barrel unit installed. And accuracy is therefore much better.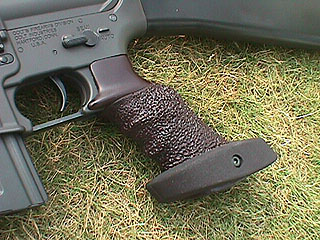 PSG1 style grip


This CL custom Hbar competition rifle is built on practicability. So you will not find any fancy upgrade in this rifle. Other than PSG1 and G3 SG1, there are plenty of rifles which can be upgraded for sniping use. M16A2 has good potential to become an excellent sniper rifle. And you will see many other custom sniper rifles from DEN Trinity in future.



Back To Clarence's page