CL Custom H-Bar AUG & HK94L Carbine
| | |
| --- | --- |
| CL custom AUG H-Bar | CL custom HK94L Carbine |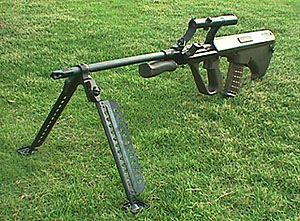 Perfect for Fire Support, the H-Bar AUG


Austria Army uses H-Bar AUG for fire support purpose. It has similar function to a Minimi M249SAW and a M60. A "Light" weapon with adequate fire power to cover the team. So you will find a bi-pod and an extended barrel from the H-Bar AUG.

AUG is indeed a very good gun if you have no problem with bullpup configuration. It has long barrel (without long body), light weight body and an amazing fire selection mechanism. Lucky that Marui transform this great gun into AEG. And the transformation is so good that all the essentials (particularly the fire selection) are faithfully carried over. It has one of the most rigid body among AEGs. And the ability to change barrels in few seconds is truely a bonus.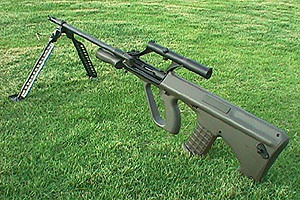 View from rear, the scope can actually work as a carrying handle


We have planned to make a H-Bar AUG for long. You can see AUG SMG (short version) often but H-Bar AUG is difficult to get. Thanks to the skill of Clarence Lai, he makes our dream comes true. The result is a very handsome looking automatic rifle, either in bi-pod folded or bi-pod extened configuaration. The longer barrel does help balancing the rear heavy nature of Marui AUG. And the steel barrel (with full length TN inner barrel hidden inside) places accuracy and power to the highest. Since an AEG001 PLUS (450fps) upgrade is installed to this H-Bar, you can even use the gun for sniping purpose.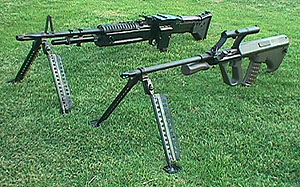 Side by side with an M60 LMG


Of course compared with an M60, the lack of magazine capacity is the shortage of H-Bar AUG. But when it comes to appearance and mobility, this AUG must be my pick. How come AUG always looks good in whatever barrel configuration? Must be due to its uniqueness and futuristic looking.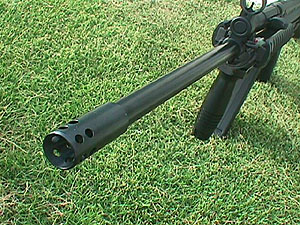 Muzzle of HK94L Carbine, another good looking flashhider


An answer to people who think MP5A5 / A4 is not accurate enough. HK94L has much better accuracy compared to his MP5 brothers. Carbine always have its attraction. You either love it or hate it. Like the HK51, some people think it is strange looking but some think it is awesome. To me, HK51 is not bad at all. But the shorter body of MP5 helps me to grip the gun better (since my arms are not that long). So when I hold the foregrip of this HK94L, I feel real good. And switching direction is swift and easy thanks to the fixed stock and the lightness of muzzle.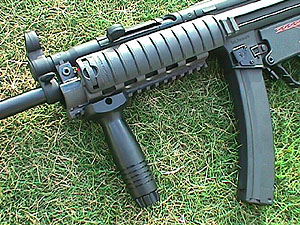 Mosquito Mold RIS System

Mosquito Mold makes this good looking MP5 RIS and we thnk it can best match the tactical character of MP5 SMG. Although this gun is not modified in terms of power, a good base is provided. EG700 Motor, ability to fit standard battery and a LONG LONG barrel means 450fps is not difficult to achieve. The extended barrel is steel made once again. And you can fit any accessories to the RIS you wish.


Back To Clarence's page