CL Custom Modified Class Government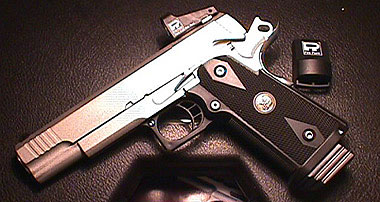 CL Custom Modified Class Government
It is brand new, IPSC shooters may well be aware of a compact sight from Tasco, named Optima 2000. Actually, the sight is not Japanese made, it is made by a company in England called Fire Point. Tasco had bought an amount of Fire Point and re-badged them with Tasco Optima 2000. Whatever the badge, this sight is the best seller after its launch in the US. This compact sight is no longer a futuristic optics like C-More and Holo-sight. It is now a sight small enough for carry purpose. Slipped between nicely within Open and Limited Class, this Modified Class race gun surely brings you a new image.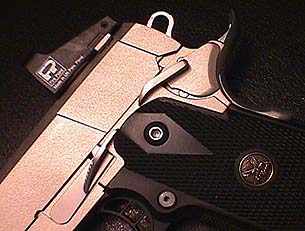 It is no bigger than a standard Bo-Mar sight
Nice to see WA Hi-Capacity .45 and its variations. This model provided us a easier double column base for custom. Made from a WA Hi-Capacity .45, this race gun is once again heavily modified. Trigger tuning is a must and the badge is changed to Wilson Combat to give the gun a professional look, though Wilson did not do any polymer government custom job. The slide is something to be mentioned. Originally, the Fire Point can sit lower on the slide in real gun. For air-soft gun, this cannot be done as the Magna Blow Back System has taken up the space. It has to be mounted higher to avoid the problem. Doing so did not really affect the visibility as the full metal slide is re-worked. The top part of the slide is machined for a flatter surface. This gives a better view from the Fire Point.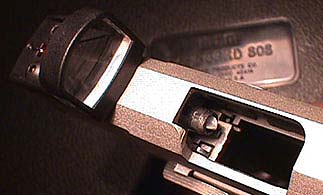 Top view


Viewing the Fire Point is a totally different experience, the screen is smaller and the sight is very compact. This does not mean visibility is reduced as the dot is clear and automatically adjusted to light exposure. The dot is less sensitive to vibration as it is closer to the center line of the pistol. Clarence said extra care is needed to install the sight as it is mounted on the slide rather than the frame, so more shocks are encountered.




Back To Clarence's page