CL Custom FBI Special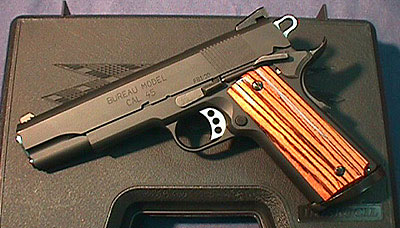 Bureau Model from New MGC
1911 fans should know that Springfield Armory had gained a contract with FBI to support FBI's agents' carry gun. It is a classic single stack Government model in .45ACP caliber. The real gun is modified for carry purpose with high rise sight, ambidextrous safeties, magazine well and all the internal refinements.
Focused on airsoft business from 1998, New MGC has released many variants of 1911 with Magna blowback. Under license from Western Arms Magna blowback, New MGC is not allowed to produce normal Government and Commander model as it will compete directly with WA's products. Therefore New MGC only produce Officer models and Long Slide models like AMT Hardballer. For the FBI Bureau model, New MGC makes no exception to produce a 6 inches Long Slide model, which is no way near the real gun. Clarence thinks such gun should not be wasted and managed to convert it to a standard 5 inches Government model.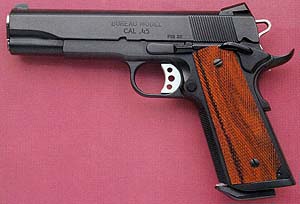 Real Bureau Model
For this FBI Special, modifications are not that huge. Original frame and slide are used. For the slide, of course it has to be cut from 6 inches to 5 inches. Front sight, bushing, recoil spring and reserve plug are modified to suit 5 inches slide. Steel bushing and wood grip from Carom are installed on this FBI Special.. Since FBI special from New MGC does not come with a magazine well, Clarence fits one to the gun by some custom work done on the spring housing. Surface colour is re-finished to get a closer appearance of the Black-T colour from real gun.
Internally, changes are shok-buff installation to reduce recoil and trigger job to suit carry purpose. Internal mechanism is further enhanced to ensure smooth operation of the gun.
Clarence did not touch the gas flow mechanism as this FBI Special is for collection purpose. Good sights, reduced recoil and nicely weighted trigger pull makes this pistol easy to aim and shoot. If you are tired on Western Arms Governments, this FBI Special will sure refresh you.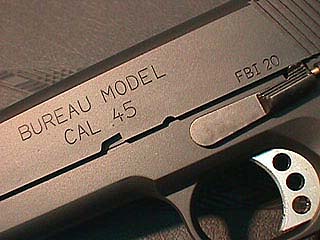 Marking from New MGC is a true copy of real gun
MORE PICTURE
(it may take some time to load)
Back To Clarence's Page