SV .38 Super Government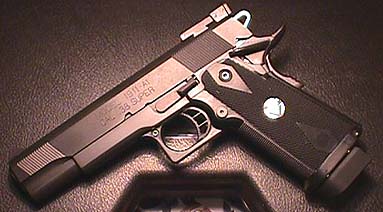 SV .38 Super Government
A custom model gun, SV .38 Super Government, is no ordinary as it is the second double column government after MGC Springfield Hi-capacity .38 Super. The concept of this SV Government was developed by Clarence and Nelson about a year ago. As the WA .45 Hi-Capacity is not available at that time, the lack of a proper frame is a big problem. Hopefully, some Hong Kong shooters were combining SV/STI base, a metal upper frame and WA Government slide to form a air-soft race gun, we were just thinking if this system can be carried over to a model gun.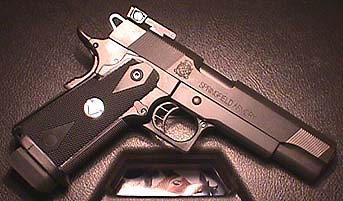 SV .38 Super Government (right side)
Transferring the model gun system to an air-soft gun is not easy at all as many parts can't be directly carried over. For this SV, nearly all parts in the frame are needed to be modified to some extent before they can be installed. The rear sear-trigger section is from model gun and it is heavily modified in order to fit into the upper metal frame. The hammer and Infinity trigger is adjusted for crisper trigger pull. The hammer strut is to be filed thin enough to install the Infinity beavertail.
The slide is the least modified item. After viewing all MGC's slide, the slide from the Springfield Expert Custom Limited Class .38 Super (frame silver model) is used as it has the best markings on the slide. It is based on Springfield M1911A1 slide and it has the Springfield Cross-Canon logo on the right side. The front checkering is also a nice touch.
After assemble the pistol and apply it will all black, the "carry" style of this gun is clearly shown. Until now, it is still the one and only SV Government model gun in Hong Kong.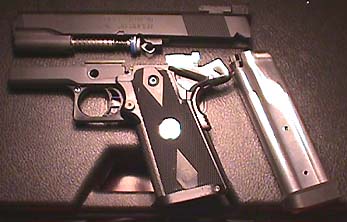 The slide, frame and ,magazine
Back To Clarence's page