CL Custom Steel Challenge Race Gun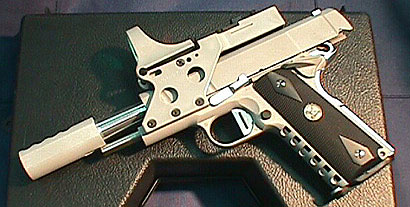 CL Custom Steel Challenge Race Gun (cocked)
Steel Challenge has a long history in Japan. In Hong Kong, there are fans on Steel Challenge as well. But most people prefers IPSC as its course has more variation. In fact, when talking about real speed and accuracy, Steel Challenge is THE competition to test personal ability as the course is short and speed and accuracy required is high.
How to customize a race gun for Steel Challenge? Should it be similar to IPSC race gun? Not a simple "YES" we can tell you. CL Custom bring you this Steel Challenge race gun and some of its custom works is targeted for Steel Challenge.
For Steel Challenge race gun, as the course is short (max 6 plates to shoot), speed is a major concern as all competition has similar results. 1/10 of a second may already define who the champion is. Sometimes, the difference between the top and the worse shooter only differ in 2 seconds in a competition. Therefore a race gun should be as light as possible to provide faster draw and faster target-to-target movement.
For this race gun based on WA Colt Commander, the slide has a open top design similar to Briley's and is a commander slide rather than a government. This is done to reduce weight and maintain fast blowback. The end of bull barrel is mounted a compensator. This is very useful to reduce recoil and achieve higher stability in real gun situation. Of course, for air-soft gun, this is a cosmetics add-on. The frame is also lightened by drilling holes on the grip area. The skeleton frame not only make targeting faster, better gripping is provide as well. Following the main principle, C-More optics is used as it is the lightest optics available. Grey colour C-More is mounted to give a integrated look to the matte silver finish slide and frame.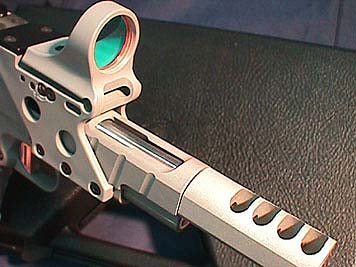 Top front view, notice the open slide configuration and the four ports compensator
Trigger is something worth mentioning. This flat trigger from Japan is installed for a purpose. As the speed required is very high in Steel Challenge. Your finger may not be in the center of trigger when you are pulling it. For typical new moon trigger, the finger is most sensitive only in the center. For this flat trigger, you can gain highest sensitivity not only in the center, but the top and bottom as well. So highest sensitivity can be gained even when the finger is slightly misplaced. ½ pound trigger is set to provide faster trigger pull.
Other details include big single side safety and plastic magazine well, to provide better grip and lighter frame respectively. People may wonder why Hi-capacity is not used, in a competition where only six targets are maximum, why use a double column?



Back To Clarence's Page