Gun of the Year 1999
CL Custom Glock 17 Ultima Carry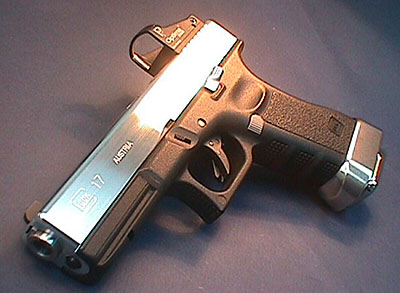 Ultimate Carry Gun? At least it looks ultimate enough
If you have been reading our news, you might find this Glock 17 looks very similar to CL custom Glock17 shown in April 99. In fact, it is based on a Tanak Glock 17 Rail Frame. Tanaka is chosen as base as it has the state of the art blowback system-- Magna BlowBack System. This BlowBack System is field proven and it is the best blowback System available. For best effect for metal slide pistols, Magna blowback is a must.

| | |
| --- | --- |
| Shinny looking Zeke slide | Optima 2000 Sight |
A Zeke 7075 aluminum slide has been used for shinny looking result. To modify this slide with Aro-Tek Hybrid system is not an easy task. Apart from the drilling in the slide, the barrel is also drilled. And the ports on the barrel must match the ports on the slide. A slight cut is also required on the slide front in order to accomodate the hybrid rail on top of the barrel. This also demands high level of skill. Front sight is from real Glock 17 parts maker Novak. As this Glock 17 was designed for carry purpose, a light weight and compact sight is needed for quick target engagement. The CL Custom Glock 17 has a laser pointer. But laser pointer will easily expose your target to third party. That's why Clarence has chosen Optima 2000 red dot sight for this Ultimate Carry. Optima 2000 will automatically adjust the brightness of the red dot by a light sensor. And the shooter is the only one who knows what is targeted. Clarence believes that this compact sight will become more and more popular in future.

| | |
| --- | --- |
| Aro-Tek slide release and magazine release | Aro-tek Hybrid System on Zeke slide |
Some of the parts were directly from real gun, such as Aro-Tek slide release and magazine release. They both require professional skill to fit into airsoft Glock. These Aro-Tek parts will assist the shooter in mag changing and the required time can be reduced significantly.

| | |
| --- | --- |
| New CL Custom Glock17 Optima Carry | CL Custom Glock17 |
There were some useful part carried over from the last CL customed Glock 17. Lighting Strike magazine well and magazine base are some examples. They do not only enchance the appearance of the gun, magazine changing is much more easier as well. Mechanism wise, the Magna blowback system has done a lot already to handle the extra weight from metal slide. Magazine valve is further improved for better gas flow. Magazine base is also modified to minimize gas leaking possibility.
We have waited for years to see a Glock with good appearance and mechanism. We do believe Tanaka Glock is the best. Purely putting a metal slide is simply not enough for Tanaka Glock. In fact modifications on Glocks can be plenty.

| | |
| --- | --- |
| Mag Well Lighting Strike magazine base | |
END