Comparing red-dot sights for IPSC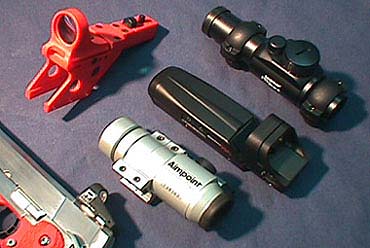 Top left: C-More (red), bottom left to right: Tasco Optima 2000, Aimpoint Comp, Bushnell Holosight, Tasco Propoint III
In open class of IPSC, optics can be used. With such assistance, shooters can gain higher speed and accuracy compared with traditional front and rear sight. IPSC is always described as an equipment race. So if you get the most expensive and tech-advance sight, does it means you have an edge over the others? We will analyse the most popular optics one by one.

TASCO PROPOINT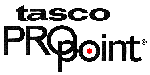 The is the earliest generation of red-dot sight used in IPSC. Out in the market in early 90s, Tasco Propoint II (PDPII) was quickly adopted as the most popular sight at that time. Top shooter Jerry Barnhart is one of the shooter who was using it. Tube diameter of Propoint II is 20mm and it was criticized that field of view is too narrow. The pure on-off switch caused concern as well. So the Propoint III (PDPIII) was then released with its problems solved. Tube diameter is increased to 30mm. Field of view is improved and 11 levels of light adjustment was added. Latest model Propoint III plus (PDPIIICMP) was further enhanced on brighter dot and wider field of view with its 33mm tube.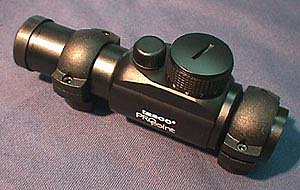 Shown here is Tasco Propoint III
Good:
Very reliable
Cheap (PDPII: US$94.95 ,PDPIII: US$119.95, PDPIIICMP: US$129.95)
No dot-searching problem
Not good:
Heavy (155g average for all models)
Some reflection on len
Field of view restricted by scope body
Too long (PDPII & PDPIII: 127mm, PDPIIICMP: 121mm), which affects swift targeting
AIMPOINT COMP


After model 3000 and 5000, Aimpoint got mature on its Comp model. With its 30mm tube design and 10 levels of brightness adjustment, COMP is a serious competitor of Tasco PDPIII. Compared with PDPIII, COMP is much compact and light, lens is non-reflective and red-dot is bright enough even in a very sunny day.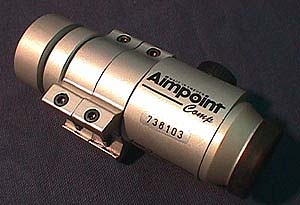 Aimpoint Comp in silver colour
Good:
Bright enough dot
Rugged and waterproof
Shorter in length (111mm) and light in mass (135g) assist in swift targeting
Non-reflective len
No dot-searching problem
Not good:
Field of view restricted by scope body
Expensive (US$246.95)
C-MORE SERENDIPITY SL


A new generation of optics in IPSC. Tubeless design and ultra light weight had stunned the industry and competition field. Without the obstruction of tube, field of view is wider. Light weight of the sight also helps in fast targeting. Brightness is controlled by a step-less dial and the dot is bright enough. First edition of C-More sight was not so rigid as the lens will fall off when seriously shocked. This problem was certainly corrected, which leaded to the 2nd generation of C-More.
Serendipity SL model of C-More is popular in its class as it is integrated with frame mount. That saves weight but it is not easy to install in a standard 1911 slide. Such model restricts the height of slide and milling of slide is required. Only a professional gunsmith can do the job.
Dot-searching is another problem for tubeless design optics. As you cannot actually see through a tube in C-More, dot cannot be viewed from incorrect viewing angle. If it is the case, dot cannot only be found until viewing angle is corrected. We call this dot-searching and it happens on Bushnell Holosight and Tasco Optima 2000 as well.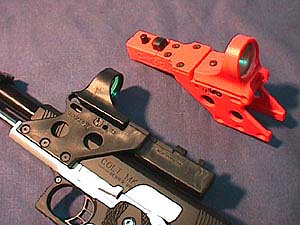 C-More in black and red
Good:
Ultra light (106g)
Bright dot
Field of view least restricted by scope body
Not good:
Expensive
Dot-searching problem
Not easy to install
BUSHNELL HOLOSIGHT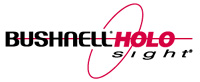 How can you imagine this generation is coming so fast. After revolutionary C-More, Bushnell is giving the shooters the Holosight, which is something very advance. Prototype used by Jerry Barnhart, shooter and industry was stunned once again after the final version came to market. Using laser rather than LED light, a reticle is projected to the screen view by shooter. So the "dot" is no longer a simple dot, but a laser graphic. Other than that, projected reticle appears to be on the target with the holography technology used. So acquiring target is easier. One touch buttons controls and 20 steps of brightness control further enhance performance of this sight.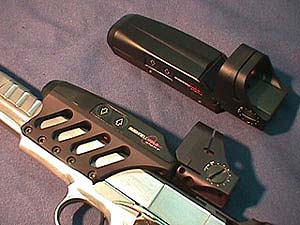 Bushnell Holosight with and without frame mount
Good:
Adequate brightness
Interchangeable Reticle
Battery-check available
Field of view least restricted by scope body
Not good:
Very heavy (255g), affects targeting
Very expensive (US$ 378.95)
Reticle-searching problem
TASCO OPTIMA 2000


Badged as Optima 2000, this "miniaturized C-More looking" sight is in fact designed and developed by a British company named Firepoint. The release of this sight changed the story of Modified Class in IPSC, as this sight is compact enough to fit into a Modified Class box with proper installation. Modified class is now including a first optical sight.
Optima 2000 also revolutionizes the carry gun market. As this sight can be permanently switched on for 3 to 4 years (estimated battery life), and compact enough to be daily worn, Optima becomes very popular in the carry gun market as well. This breaks the rule that "Racing optics is never a real life sighting equipment" is proved incorrect. Brightness of dot is automatically adjusted to external lighting environment so no manual adjustment is needed. Mounted on the position of real sight, target is much easier even though the area of viewing is a bit too small.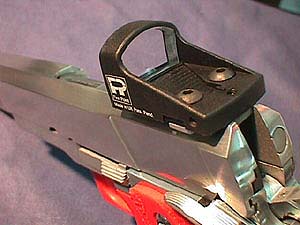 Shown here is the Firepoint model, sight external difference distinguishes the two
Good:
Ultra light (14g) and compact (L x W x H: 41mm x 25mm x 23mm)
Long Battery life
Auto brightness control
No height differences compared to typical optics
Not good:
Expensive (US$ 274.95)
Hard to get (for the moment)
Small viewing area
Skills are needed to install, especially to Modified Class racegun
Dot-searching problem
Making a choice
It can be very easy if you know yourself good enough. Not a single sight you saw here has absolute advantages over the others. Holosight may be advance in technology but it is heavy for fast targeting. Tasco may be heavy but it is free from dot-searching problem. So before you make a decision, study your shooting and targeting habit. If weigh affects you, choose a sight which weight less. If finding a dot concerns you, choose a tube sight. Choosing a sight which suits you best will give you an edge. Borrow the sight from your friend and have a look if they got one. This will certainly help you in arriving a good choice.
If you want to know more on any particular sight, you can see them on the net.
Back To Topics