Memorable Toy Gun: Maruzen Luger P08 Airgun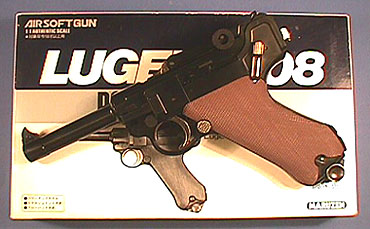 Some of you may have experience interesting toy gun like this one

I wanted to start this section a long time ago. It is a good time now to present this memorable airgun. A Luger P08 from well known Maruzen. Wow, DEN Trinity started to talk about airgun now!
| | | |
| --- | --- | --- |
| Push down the lever on top to power the gun | Upon trigger is released, the lever will return and the piston at rear will pop out | This is how the gun works, fun and realistic! |
Long term DEN surfers will note that we have never talked about airgun before. Not because we do not like airgun, we all like airguns as they are part of our airsoft experiences. Clarence, Raymond and Nelson have experienced airgun when they are "young". They all remembered when they were kids, they all watched through shops' window for airguns which they wanted to own some day. Airgun is part of their airsoft history and they will never forget what airgun had contributed to their childhood.

What is an airgun? It is the correct term of "spring gun". In Japan, all guns which require physical strength to operate are defined as airgun. Airsoft is an other category for gun which does not require physical force to operate. So gas powered gun and AEG will fall into airsoft category. For this Luger P08, the reason it is worth mentioning is the interesting mechanism it has. From the diagrams above, you can see how the gun works. In normal condition, the gun is in "lock" position, you have to push down the famous P08 "legs" above in order to power the gun. A gold plastic plastic cartridge (with BB loaded) is then pushed into the chamber. Upon release of trigger, the gun will return to its normal condition (blow but not back), shooting the BBs out and ejecting the emptied shell. Then the cycle continues for each round.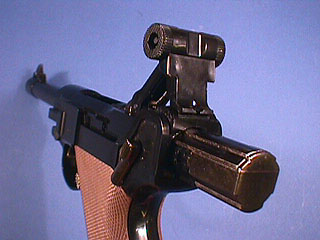 Piston is metal made and will pop out when trigger is pressed, so be careful when shooting
This gun is really fun to shoot. Although it requires physical strength after each round is "discharged", the ability to have BBs shot out and shell ejected at the same time make this gun feels real. As an airgun, this gun is pretty well made as trigger, safety, magazine and piston unit are all metal made. The gun is in scale and the power is not bad for an airgun. Weighed at 360g, sure this P08 is light. But why interesting airgun like this will always got discontinued?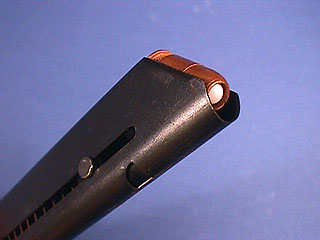 Gold colour plastic cartridge with BB inserted at front
Back To Topics