Long Term Test
Youth Engineering MP5A5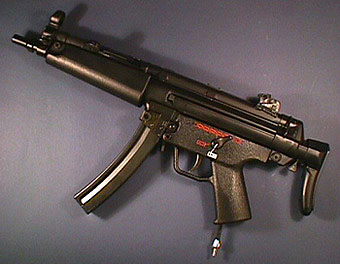 Gas Blowback is much better then Automatic Electric Gun in terms of shooting experience
Background
We are very sure that nearly every shooters know Heckler & Koch MP5. In airsoft field, apart from AEG from Marui, some experienced shooters will know that JAC did produce a automatic gas MP5 years ago. After the era of AEG arrived, gas operated automatics seems dead. With the return of gas blowback SMG ,shotgun and rifles, Youth Engineering had released its gas blowback MP5A5 in September 97. It is a understated gas gun in Hong Kong as not many people here know this small company. In fact, this gas blowback MP5 is such a good gun that it worths a long term test from us.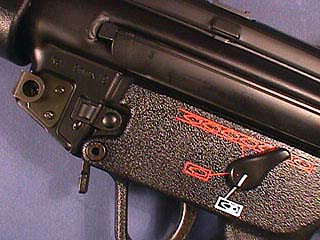 Mould of grip is from JAC, but internal mechanism is brand new
MP5A5
How good it is you may ask. I cannot tell you which side of Cola cans it can penetrate. For DEN Trinity, good means good shooting experience. We always prefer gas blowback guns as it is much more realistic when you are shooting them. Cocking the gun to load the first round and the feeling of recoil shock transfer to your hand is a second to none experience. THIS MP5 tops such experience. Unlike other blowback SMG ,shotgun and rifles, Youth Engineering uses a external gas storage rather than in-magazine gas storage. External gas storage avoids inconsistent gas supply and heavy magazine. For the cost of appearance and mobility. Receiver is made by pressed alloy and we can tell you it is very nicely built. Rear sight is soldered on the receiver. Sub-contractor who made the metal receiver is responsible for making metal bodies for Panasonic and Mitsubishi. So high quality is ensured. Mould of grip, front grip and magazine is carried over from JAC and it is very real in terms of scale.
To dis-assemble the MP5, it is just like the real one. Rrelease the push pins located under the mag-release and folding stock, the grip and folding stock can then be taken apart. Gas control unit and bolt can be pulled out after that. Youth Engineering does amaze us when it comes to mechanism design.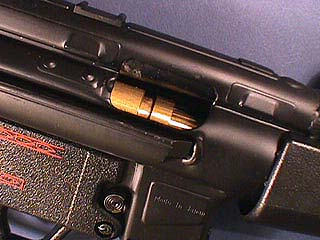 Bolt opened, where is the 9mm bullet?
In action, shooting Youth Engineering MP5 is the best experience after shooting all gas blowbacks. Recoil force is firm and controlled. Although it cannot be compared with the real one in terms of recoil force, bear in mind it is an airsoft and the metal hitting sound generated is music to our ears. Blowback cycle is good in timing too. Trigger leaves something to desire as it is a valve control rather than a firing pin mechanism. Therefore squeeze the trigger and you will hear some gas leaking sound before a round is fired. This is a common problem for all gas blowback autos.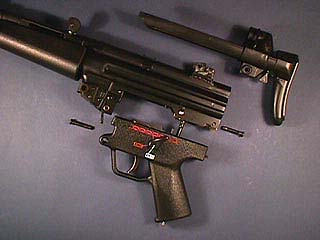 Field strip just like the real MP5, release two push pins, grip and folding stock can be dis-assembled
Long term Test
After firing hundreds of rounds, this MP5 has no major problems and malfunction at all. In appearance, oxidation occurs on the rear sight and some rust appears on the rear stock section. This may caused by humid weather in Hong Kong. It is good to see a manufacturer brave enough to make such an excellent gas blowback MP5 in a AEG dominant market. Although Youth Engineering has plans to make other accessories and variances of MP5, no other products are released yet due to the poor economic times. Just want to let Youth Engineering knows if they are to release other variances or accessories, we are looking forward to them.



| | | | | | | | | | | |
| --- | --- | --- | --- | --- | --- | --- | --- | --- | --- | --- |
| Round | 1 | 2 | 3 | 4 | 5 | 6 | 7 | 8 | 9 | 10 |
| m/s | 70 | 64 | 66 | 67 | 63 | 68 | 66 | 67 | 71 | 64 |
| | | | |
| --- | --- | --- | --- |
| | High | Low | Average |
| m/s | 71 | 63 | 67 |
Power: .449J
Temperature: 20C
BB: Marui 0.2g
Gas source: Green Gas ET-1000
Grouping: 1 cm in 5 metres
MORE PICTURES
(it may take some time to load)
Back To Topics