Jeff Leung Custom AR-15 Sniper Rifle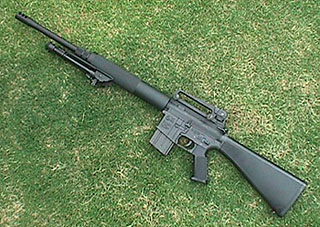 Jeff Leung Custom AR-15 Sniper Rifle model gun

Jeff Leung, member of TOP GUN shooting Association, is a rifle enthusiast. He is a IPSC shooter, a model gun collector and a rifle specialist. Among all rifles, AR-15 and AK47 series are his favourites. This full metal AR-15 Sniper Rifle is one of his excellent works.
| | |
| --- | --- |
| The body of AR15 is a piece of art, logic and user friendly too | Markings of the gun is good, note the SMG marking |
For this AR-15 Sniper Rifle, Jeff,s idea is to make a rifle for sniper in combat situation. So you do not see extremely long barrel with bipods. And the rear stock is still collapsible like M4A1 and XM177 to improve mobility. Whole gun is based on a XM177E2 model gun kit from Marushin. In appearance, several modifications are made. The eye-catching handguard is one of them and such piece of metal handguard is US made. Barrel is fully custom made by Jeff and the length is set similar to M16A2 barrel. Handle and rear sight is removed and replaced by a scope mount rail. With similar effect to M4A1, scope can be mounted lower and it is easier to aim without cheekpiece. To install the scope mount rail, T shape cocking handle is filed for a better fit. And the scope fitted is 4 X 20mm cross hair scope. The grip is also replaced by the real M16A2 grip.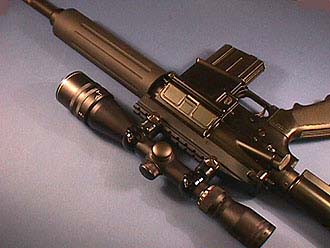 Another view on the side
Internally, more modifications are required as the original Marushin kit is just too poor to fire smoothly. Jeff has spent lots of time and effort to make Marushin model AR-15 series to run smoothly. After his studies, original hammer spring is just too heavy for the bolt to cycle. So he made a lighter hammer spring to replace the original one. Alongside with the improved recoil spring, lighten piston and bolt, this Marushin sniper rifle can operate smoothly now. Jeff is still working on ways to improve the Marushin AR-15 model guns, like running New Plugged Fire Cartridge (NPFC) and CP-HW cartridge in the gun. Hope he can success and make this gun really fun to shoot.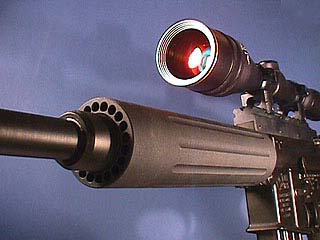 Front handguard is slimmer than the original one
Back To Topics