FN M249 Squad Automatic Weapon (SAW) AEG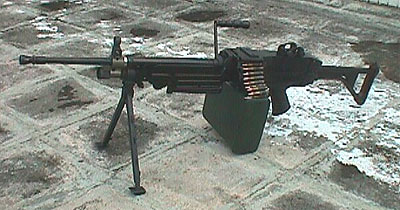 FN M249 Squad Automatic Weapon (SAW) AEG is another project from DEN Trinity. This is a very long-term project and Skuzz from Team Tango will know that. We have been talking this guns for months, as many technical problems have to be solved. Finally, this ultimate weapon is finished.
Basically, it is a Asahi Firearms' FN M249 gas full auto combined with Marui AEG's internals. Finding the gun is a very difficult job as this weapon has been discontinued many years ago. Luckily we are able to locate a quality second hand M249 gasgun.

The original M249 SAW from Asahi is extremely well built. You will never expect a gun as long as M60 will have such a high rigidity. This gun is very solid. All the joins are of high precision and you will not be able to twist the gun a bit. The whole gun is metal made except the upper receiver cover. The weight is carefully calculated and Asahi firearm's M249 is only 200g lighter than the real steel M249 unloaded. The outer barrel is full steel constructed by CNC. And the rear stock is full metal constructed and is welded to the receiver. We are very amazed of the built quality of M249 SAW. If you compare the M249 with Marui AEGs and Top M60s, we do think Asahi's gun assembly technology and quality is at least five years ahead.

| | |
| --- | --- |
| | |
Conversion is a very difficult job. Although there is ample space inside the M249, the grip section is a tricky part, as the original grip cannot be used. We have to re-shape the complete grip with lower receiver. Japanese has done conversions on M249 using version 2 gearboxes. We think the version 3 gearbox will be more appropriate. And we have used a AUG hop up unit. So the complete barrel section can be taken out like the real gun.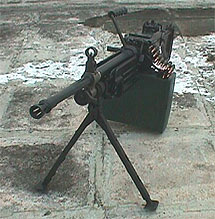 The drum is the most complicated part. The Japanese converted M249 can only use M16 magazine. We think M16 magazine will be meaningless if used in a M249. So we decided to convert the real steel drum for this "AEG". The drum serves three functions. It holds 2000rds of BBs. All BBs are motor loaded to the chamber with a connection to the trigger. Once the trigger is pulled, the BBs will be automatically loaded (more advance compared with the electric driven hi-cap magazine). The drum also holds a 10.8v 2000mAh battery to power the gun. External battery bag is not needed. Connection between the gun and drum magazine are external wired. It is for the purpose of easy maintenance. And the dummy belt can cover the wires without problem.
The Real Steel FN M249 is truly a piece of art. With such a lightweight, this weapon is capable of firing 5.56mm rounds in belt format. And if needed, M16 magazine can be used as well. M249's versatility and reliability is well proven in battlefield. M249 and its variations are serving in many countries' military forces. Airsoft version of M249 is very difficult to build. Too many parts are involved and some parts have to be made from sketch.
What is our next project? Stay with DEN for more news.