M16A3 Sniper Rifle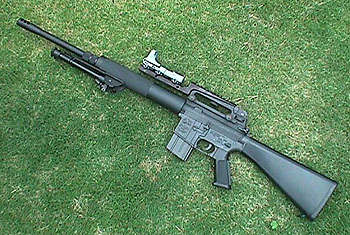 M16 inherent the best of Colt Government, it always looks good no matter what modifications it has

Our rifleman Jeff Leung shows us another great rifle he owns, a M16A3 sniper rifle AEG. This rifle is modified by Leung Sir--a professional airsoftgunsmith. Leung Sir is the chairman of Top Gun shooting Association and he has over 25 years of custom airsoft experience. He specializes in gas automatics. When it comes to JAC automatics, Leung Sir can tell you every details about them. This M16A3 rifle is just a light custom AEG from him.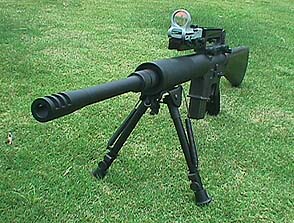 The tank like muzzle gives a powerful look, ports on top is nicely cut too

Supposedly Jeff Leung wants to use this AEG for IPSC shooting. So inside the gearbox, Systema hi-speed gears are installed. Together with the EG700 motor, overall trigger response time is shorten. But it still disappoints Jeff as he is demanding the trigger feel of WA blowbacks. Though that trigger feel cannot be achieved by Marui AEGs, we are still looking forward for some manufacturers to achieve it. Who knows what will happen in future.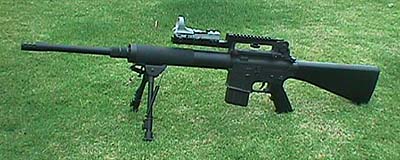 It looks like SR-25 sniper rifle from the side


Most people will think this gun is based on an M16A2 but in fact, it is a good old M16A1. Apart from the lower receiver, all other parts are transplanted to make this great looking M16A3 sniper rifle. Upper M4A1 style plastic receiver is from RIGHT. Rear stock is from M16A2. Full metal foregrip and outer barrel piece are from unknown Japan parts manufacturer. Build quality is excellent for the foregrip and outer barrel. Checkering is sharp and the weight impresses. On top of the handle, the new Bi-level scope rail is installed with a grey genuine C-More red dot scope. Experienced wargamers will always find red-dot scope more useful. As with power scope, even target is aimed, BBs may not be able to reach it. So the C-More scope is chosen for such a reason.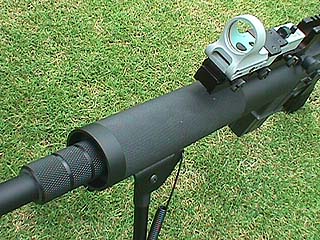 Build quality of foregrip and outer barrel is second to none


Leung Sir uses a special colour finish on this M16A3 Sniper Rifle's body. It looks amazingly real even the body is plastic made. Jeff told us such a finish cannot be done anymore as Leung Sir has lost the colour mixing formula.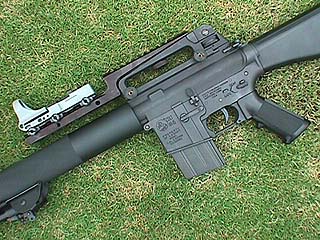 If I have a chance, I should place a real steel side by side to this AEG, the colour finish is excellent
Back To Topics