Raymond Au's Race Gun Limited 1.0 (CL Custom)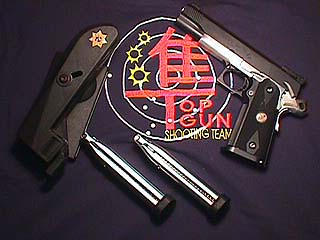 Raymond's IPSC race gun and Top Gun's logo, the chinese word in middle means high accuracy
This week we will bring you some private stuff, the race gun used by our member Raymond Au. His race gun is based on WA Hi-capacity .45 and he replaced his single stacker Government a few months ago. For the sake of higher magazine capacity and stability in gas pressure.
As soon as he got his "out of the box" gun, some custom works are done by Clarence and Raymond himself to enhance perfomance. Original Heavy Weight slide is replaced by Wilson's ABS slide for faster blowback and durability. Short-travel ultra light SVI trigger is also added for Raymond's personal favour. To reduce the muzzle movement during blowback, "Machinable Plastic" guide rod is used as it is lighter than normal metal one. Grip is further filed and Sheriff Barsto .45ACP Chamber is installed for smoother gripping and better appearance. Magazine bumper from real magazine is also used, as the original bumper is too easily breakable while dropped.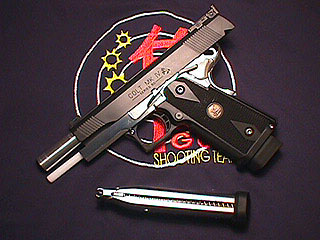 Raymond's Race Gun Version 1, note the Wilson Combat badge on the grip
One thing worth mentioning is the Capsian optical fiber front sight. For this front sight, the dot in the front sight is represent by a optical fiber rather than a normal white dot. Looking from the side, middle of the front sight is the optical fiber and the area is to absorb light. When you are viewing through the Bo-mar, you can see a bright dot on the front sight which is the fiber. Although it is not as bright as optics sight like C-more, bear in mind it is not a open class race gun. Having a better viewing sight is surely an advantage in competition.
After years of experience in IPSC and raceguns customizing, Raymond realize good communication and relationship with gunsmith is very important. Something which gunsmith thinks is good is not definite to all people. So having the BEST equipped race gun may not lead you to any trophies. The rationale behind is to find a SUITABLE custom race gun for youself. Respecting the competition and other shooters is very important as well in IPSC.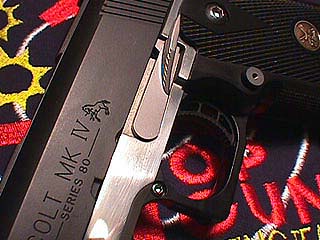 Slide is coloured by Carom black steel, frame is polished to give a gross steel look
Back To Raymond's page