Ed Brown Maxi Comp .45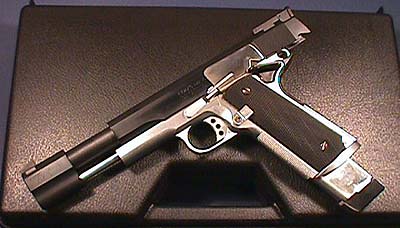 Ed Brown Maxi Comp .45 (Raymond Version)
Government model gun collector will always know there are not many out-of-box model race guns. Having compensator are even less. As far as I know, MGC had only produced Clark Bowling Pin, Jim Boland Long-Comp and this Ed Brown Maxi-Comp .45. Therefore it is a rare example of MGC product.
Based on a Series 70 Government, Ed Brown had made this race gun which packed all the essentials of a modern race gun. Compensator, bo-mar sight, magazine well, extended magazine release, thumb guide and bevertail are all parts you can easily find in a modern race gun. But Ed Brown had though of all these long time before.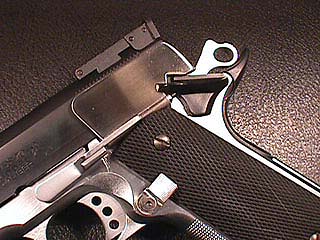 The all steel thumb guide looks very good
Model race gun can never slip throught the hands of Raymond. In fact, Raymond has modernized the Ed Brown by dropping some new parts to the gun. A steel thumb guard is replacing the original Pachmayr replica. Extended magazine release and slide stop is installed. Extended safety is replaced by a oversize safety and a modern bevertail is placed. Combined with the black rubber grip, can you tell it is an old race gun without looking at the compensator? The extended magazine is modified from WA's Wilson Combat aisoft magazine and it can function well in model gun.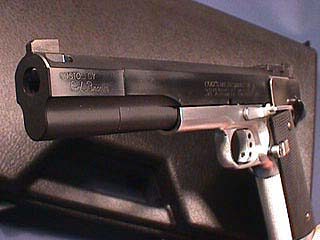 The Ed Brown markings on the Compenstor make this gun very special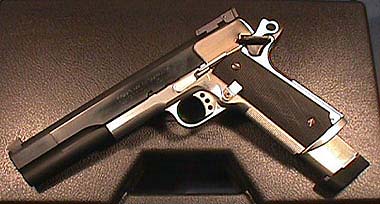 With the compenstor, this Government is even longer than a Long Slide Government
Return Raymond's page