Heckler & Koch VP-70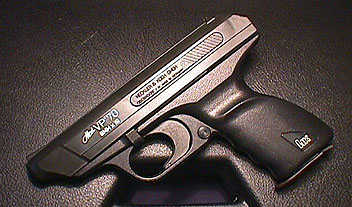 MGC H&K VP-70


Make famous by a Sony Playstation game Biohazard 2 are H&K VP70 and IMI Desert Eagle. Weird for a cop to use VP70 for service, but it is a gun worth mentioning. H&K has developed this polymer frame pistol in early 70s and named it VP70. VP stands for Volks Pistol, aiming to produce a low cost pistol which can be purchased by civilians, just like Volkswagen cars. VP70 is a double action only double column pistol, shooting popular 9X19mm ammo. With its polymer frame, it is light in weight but trigger is too heavy to pull. Remember it is a double action only pistol, long and heavy trigger make the pistol unpleasant to shoot, and accuracy is poor due to same reason. Not to mention continuous shooting. The size of this pistol is a concern as well as it is quite big for a 9mm pistol.

What make VP70 interesting is the option to attach a stock. VP70 can shoot 3 shot burst with the stock attached. Combining with standard 18 rounds magazine, stopping power is more than adequate. And like other pistol stock, VP70 can be stored in the stock. With a special strip, the pistol together with the stock can be stored under-arm like a shoulder holster.

Model gun of VP70 only available from MGC and its production had ceased long ago. It is a relatively low-price model gun as it only sold for 4,900 yen during production time. MGC also produced stock for VP70 and 3 shot burst was faithfully carried over to model gun. Using standard Model Gun cartridge and 7mm, VP70 has the same problem like other MG cartridge model gun--easily jammed after number of shots fired. The internal mechanism of model gun is not real as firing pin is absent, the dummy hammer could be easily wore out as well. However, the mechanism of the stock is interesting. A mechanical counter is located on the top of stock to detect movement of slide. After three returns of slide, a push rod in stock connected to pistol will stop the full auto action. I have experienced a failure of push rod after the stock detached. The pistol turned to a full auto when I pulled the trigger and the full magazine was empty within a second, exciting but painful when I thought of cleaning the cartridge.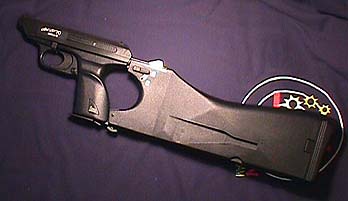 VP70 is capable of shooting 3 shot burst with the stock attached


A collector's item it becomes, as VP70 is the only model gun which can shoot 3 shot burst when stock is attached. It is also the only H&K model gun and most importantly, its production is ceased.







Heckler & Koch
MGC
Caliber
9 X 19mm
9 X 19mm
Length
204mm
203mm
Barrel length
4.56in
4.49in
Weight
820g
545g
Capacity
18+1 rounds
18+1 rounds
Price
N/A
4,900yen
3,500yen (stock)
Back to Pistols