Walther P-38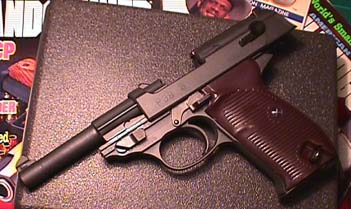 Marushin P-38 Military
You can say I am a German Fans but I declare I am not. In term of mechanic, Germany really have an edge over other countries. P-38 as an example, during WWII, can you think of any army which is equipped with a double action side arms? Only German did it with the P-38. In fact, modern pistol like Beretta M92F has a shadow from P-38 in many angles. Open slide, on-slide safety, double-action trigger, external linkage from trigger to hammer and chamber loaded indicator, these are all shared features in P-38 and M92F. Remember that P-38 was introduced in 1939 but M92SB (earlier version of M92FS) was introduced not until 1977. The impact of P-38 to modern pistol is well proven.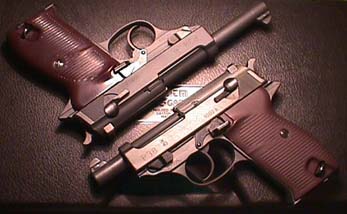 The P-38 Military twins, the Standard P-38 (left), P-38K Ex-HW (right)
Model gun version of P-38 still in production is from Marushin. In fact, many Japanese model gun manufacturer had built P-38 before. P-38 from Marushin has many versions, commercial, military, Long barrel, short barrel (P-38K), blue finished, normal ABS and Excellent HW etc. Sadly, Marushin does not make P-38 well enough. The magazine is not realistic ,firing-pin is absent and the extractor is also a dummy. Internal mechanics also vary from real gun a lot. However, this pistol has excellent performance in action, thanks to its open chamber design, you can empty a fully magazine of rounds without jam (some adjustment on magazine is needed). This is another good pistol other than MGC's Government. One little thing, when you fire this model gun, spent case is ejected to your left side but not on your right like normal automatics.
| | | | |
| --- | --- | --- | --- |
| | Walther | Marushin | Marushin |
| | P-38 original | P-38 ABS | P-38K Ex-HW |
| Caliber | 9mm Parabellum | 9mm Parabellum | 9mm Parabellum |
| Length | 218mm | 215mm | 175mm |
| Barrel length | 5in | 5in | 3.5in |
| Weight | 960g | 430g | 572g (Ex-HW) |
| Capacity | 8+1 rounds | 8+1 rounds | 8+1 rounds |
| Price | US$500 | 5900yen (kit) | 11000yen |
Back to Pistols