Sig SauerP-220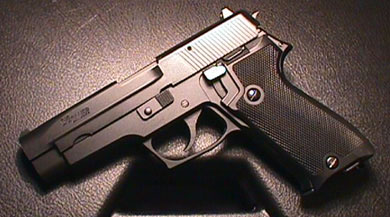 MGC SIG P220 HW
P220 marks the success of SIG Sauer in firearms industries. Shooting 9X19mm, single column magazine and double action trigger. P220 inherits excellent craftsmanship of SIG P210. De-cock function is a first in the industry and it is proved to be very useful in real life situation. Reliability of P220 is definitely its selling point as it is the major weakness of automatic pistol. As a Swiss Army sidearms (retied now), it has gone through various torture tests like sand, mud, low temperature and high temperature tests. And P220 managed to do well in all those tests. By now, P220 is replaced by it successor P226, which basic mechanics is similar but differ in grip shape, magazine release button and double column magazine.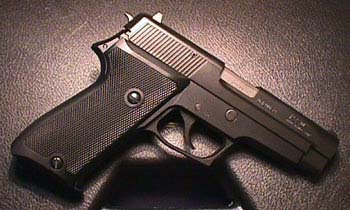 MGC SIG P220 HW (right hand side)
Model gun of P220 is only available from MGC, it has few versions so far including all silver model, blue model, HW model and Japanese Self Defense Force model. First two models were already ceased in production. Following two are still in production but their popularity are not as high as Colt Government model, at least they do not have vast number of custom parts like Government. MGC P220 is not a well copied model gun as its internal mechanics differ from real gun. It does not have firing pin (restricted by model gun law when it was first produced) and the cartridge is not in real size. However, the pistol is similar to real gun in terms of reliability, it seldom jams and each shot can be fired without problem. Although SIG P220 is an understated pistol, I really love the look of SIG arms as they always give you a subtitle professional feel, and shape of P220 said it all.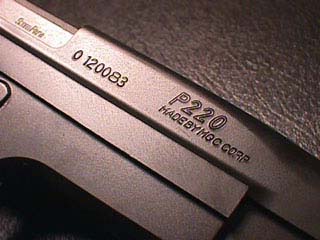 MGC SIG P220 HW marking
| | | | |
| --- | --- | --- | --- |
| | SIG | MGC | MGC |
| | P220 | P-220 ABS | P-220 HW |
| Caliber | 9mm X 19 | 9mm X 19 | 9mm X 19 |
| Length | 197mm | 199mm | 199mm |
| Barrel length | 4 & 3/8in | 4 & 3/8in | 4 & 3/8in |
| Weight | 800g | 520g | 680g |
| Capacity | 9+1 rounds | 9+1 rounds | 9+1 rounds |
| Price | US$805 | 8000yen | 16000yen |
Back to Pistols