SIG P-210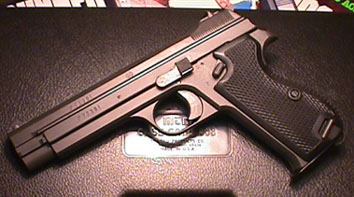 MGC SIG P210 HW (civilian version)
Schweizerische Industrie-Gesellschaft (SIG) P210 is the civilian version of Switzerland's retired military side-arm SP47/8. Although the real gun is not as famous as Colt government nor Walther P-38, I just love the shape of this handgun, especially the slide. It shoots 7.65 parabellium rounds and is a single action , single column gun. Thanks to the design of slide and frame, the rail is made very long (nearly as long as the slide), combined with the excellency of Swiss's craftsmanship, making the slide and barrel very stable when fired. Thus ultimate high accuracy is achieved. If you shake a Colt 1911, you will notice some wattles but you won't find any in the P210. Early sport shooter usually uses 6 inches target model P210 for race purpose. It can tell the accuracy of this pistol. The SIG tradition "de-cock" function was not available in this pistol although it has a similar button in the same place. The button only served as safety switch but its location marks the future of SIG de-cock button.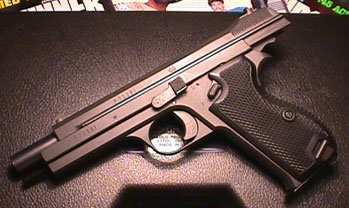 MGC SIG P210 HW (slide opened)
Model gun version of P210 is the entry model from MGC. Due to the its low price, the pistol is not very well made. The short-recoil of barrel is deleted, magazine and ejector is not realistic, firing pin omitted and cartridge used is not in scale. Apart from these shortages, the pistol is okay, for its price. MGC launched the military model SP47/8 first, after production ceased for military model, MGC launched the civilian model P210. Only the marking on slide tells the difference, basic mechanism remains un-change.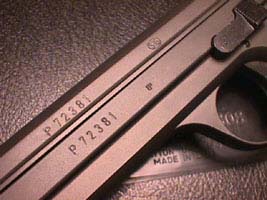 MGC SIG P210 HW marking
| | | | |
| --- | --- | --- | --- |
| | SIG | MGC | MGC |
| | P210-2 | SP47/8 | P-210 HW |
| Caliber | 9mm X 19 | 7.63mm | 7.63mm |
| Length | 210mm | 213mm | 213mm |
| Barrel length | 4 & 3/4in | 5in | 5in |
| Weight | 980g | 360g | 550g |
| Capacity | 8+1 rounds | 8+1 rounds | 8+1 rounds |
| Price | US$3500 | 6000yen | 9800yen |
Back to Pistols