KSC Beretta M93R 1st and 2nd Edition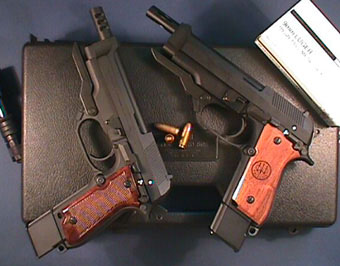 KSC Beretta M93R series, 1st edition (left) and 2nd edition (right)
Robocop's gun as many people will know. Beretta M93R is a very interesting pistol as it is the only pistol which is internally equipped with 3 shot burst mechanism. H&K VP70 requires a stock to shoot burst and Glock 18 as well as Stechkin are able to fire full autos only.
Requested by Security Commission of Italy during 70's, M93R is a weapon built to fight against the increase of world terrorism at that time. M93R is based on its brother M92, strengthen on both slide and frame, longer barrels with ports, higher capacity magazine and equipped with 3 shot burst. Double action mechanism on M92 is deleted to accommodate the burst mechanism. Front handle and the ability of attaching a stock make the 93R more controllable during burst firing. Like a top of the line motor vehicle, all the goodies added to the 93R make it a heavy and big pistol.
With 20 rounds magazine and 3 shot burst mechanism. Beretta M93R is no different from a SMG. Without the use of a stock, M93R is quite difficult to control as it cycles fast. Grouping is only fair but the whole idea of 93R is to improve fire power, which it had achieved. 3 shot burst firing is controlled by a mechanical counter located inside the right grip.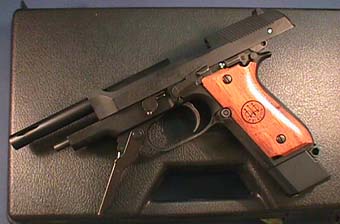 With the slide opened and front handle extended, 93R is a big pistol
Model gun of Beretta M93R is from KSC. There are two version of M93R from KSC, namely first and second editions. The difference can only be spotted from the muzzle ports. 1st edition has a side ports configuration and there are 3 ports on each side (make them six in total). 2nd edition has a triangle ports configuration and there are two on top and one on bottom (make them three in total). In fact, real Beretta M93R has three versions but the first and second versions are very much the same (even ports configuration is same). So KSC simplified it up to make up two version only.
Strange enough, KSC only produce ABS version of 1st edition M93R. And it had a USA markings. 2nd edition M93R is available in both ABS and Heavy Weight. And it had a Italy markings. After the lawsuit between KSC and Western Arms, KSC has to delete all "Beretta" markings on their guns as WA bought the exclusive use of such markings. So the pair of M93R you see here are history as new 93R model / airsoft guns has no "Beretta" markings.
In term of built quality and mechanism, KSC makes no mistakes on both. Model and airsoft gun from KSC always maintain the highest quality on appearance. Heavy Weight version of 93R feels solid, in scale, and it is finished beautifully. In term of mechanism, KSC uses 9mm CP-HW cartridge from MGC. Such cartridge is also the best in the bunch. KSC M93R can empty a whole magazine without any jams nor malfunction, no matter it is in single shot or 3 shot burst model. Although recoil is not so great from this 93R, having 3 shot burst do make this gun great fun to shoot.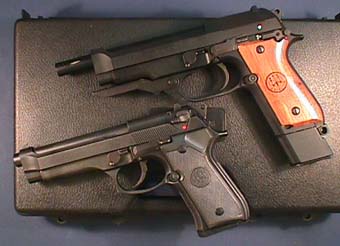 Family photo (not a full union), MGC M9 and its cousin KSC M93R 2nd edition
MORE PICTURE
(it may take some time to load)
| | | | |
| --- | --- | --- | --- |
| | Beretta | KSC | KSC |
| | M93R 1st | M93R 1st | M93R 2nd |
| Caliber | 9mm X 19 | 9mm X 19 | 9mm X 19 |
| Length | 240mm | 249mm | 249mm |
| Barrel length | 6.3" | 6.3" | 6.3" |
| Weight | 1170 | 770g | 935g |
| Capacity | 20+1 rounds | 20+1 rounds | 20+1 rounds |
| Price | ? | 17500yen | 19500yen |
Back To Pistols