Glock 18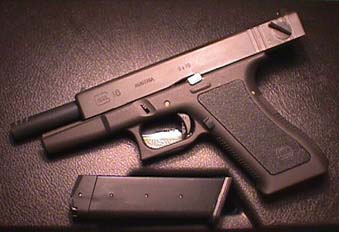 Tanaka Glock 18
As the model numbering system of Glock can tell, Glock 18 is the successor of Glock 17. Actually, not a true successor as Glock 17 and 18 have different firing function, a semi-automatic and a full automatic respectively. Glock 17 is made very famous in movies due to its handsome, rugged and no-fuss look. As Hong Kong Special Duty Unit (SDU) is also equipped with Glock 17 recently, its popularity in Hong Kong is higher than ever. Made with metal slide and polymer frame, Glock 17 series are ideal carry gun as it is light and free from edges (very important for concealed fast drawing). Glock 17 is a single action, double column pistol shooting 9X19mm ammo. Its variances are now more than you can imagine as it is now built on many different sizes and many calibers like 9mm, S&W.40, .45 etc. I personally prefer the Glock 19 model as it is a size down from 17 and shoots my favorite 9X19mm ammo. Compact enough for carry (especially for Chinese) and adequate stopping power as the double column magazine allows the gun to hold 15 rounds. Glock's mechanism is not as great as its look, single action pistol is troublesome if a round can't be fired due to prima's failure. The absent of external hammer is good for drawing but not so good if a second try on the prima is needed. The chambered round is to be manually ejected before the hammer is in ready position again. It will be very awful in real life situation if a jam like that occurs. The trigger safety is not adequate in serving its function.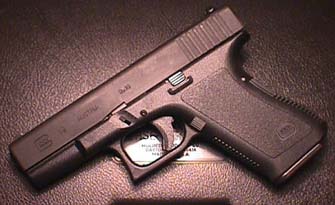 MGC Glock 19 (air-soft gun)
Tanaka is the only manufacturer who makes the model gun version of Glock 17 and 18. The size and details are faithfully copied from the real pistol but the weight disappoints as it is far too light. However, attention to detail by Tanaka makes the quality of Glock matches MGC's. The actions of this pistol is let down by its cartridges to some extent. Tanaka's "Parallel Division Cartridge" is similar to MGC HW-CP cartridge, but the whole system is combined in a small cylinder before it is installed in the cartridge. There are 5 parts to assemble a Tanaka Cartridge where MGC manages to do it by 4 parts. The result is contradictory as the Tanaka cartridge is light, but the loading and cleaning of parts takes time.
The blow back action of Glock 18 matches its look - rugged. The blow back force of Glock is strong and it is nothing like MGC's blow back. Each round can be easily fired as the firing pin hit very hard on the prima. The magazine of Glock is very well made as there are metal inserts to reinforce the plastic magazine. The feeding of cartridge is a major problem as the chamber is made of plastic instead of metal. So the chamber is not durable and can be easily deformed during mis-feed. Full auto firing mechanism of Glock 18 also concerns me as the firing pin is released when the slide is fully returned. I have experienced a danger situation while the slide is not fully returned. When I try to clear the jam by pulling the slide, the slide suddenly slip back and fire the round in the chamber. So be cautious when firing the 18 in full auto mode.

| | | | |
| --- | --- | --- | --- |
| | Glock | Tanaka | MGC |
| | Model 17 | Model 18 | Model 19 air-soft |
| Calibre | 9 X 19mm | 9 X 19mm | 6mm BB |
| Length | 202mm | 196mm | 186mm |
| Barrel length | 4.5 in | 4.4 in | 4in |
| Weight | 625g | 450g | 515g |
| Capacity | 17 rounds | 15 rounds | 16 rounds |
| Price | US$640 | 21,000yen | 14,500yen |
Back to Pistols