Ceska Zbrojovka Model 75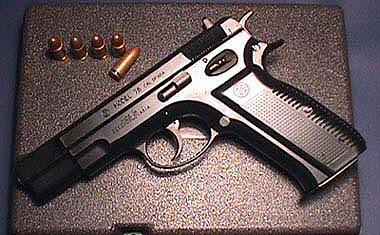 Marushin CZ 75 Extreme
Extreme is a good word to describe this model gun as this pistol is extremely in-expensive and extremely poor in quality. Remember when I first saw the ads of Marushin CZ75, I am pretty excited as I am looking forward to this pistol for long, just like Hudson MP-5. When I saw the price of this gun, I had a bad feeling. When I knew this gun is made of pure ABS, my bad feeling is further expended. This is a built-on-price model gun. Sooner, when I received the gun, my prediction is confirmed. Mold used for this CZ75 is same as gas operated blow back CZ75 developed by Marushin a few years ago.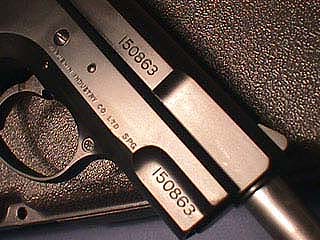 In the front marked the fake serial no, note the screw for slide stop
Weight disappoints as it is far too light. Surface finish is pure ABS standard with some minor cracks made during assemble. Reading through the manual, lack of dis-assemble instructions make me nervous. When I tried to dis-assemble the CZ75 with my field stripe knowledge, I started to laugh, the slide-stop can't be pushed right away by my finger, but a screwdriver is needed to do the job. The magazine is too thin and barrel is fixed rather than short-recoil. I would rather call it a toy gun.
Poor design, how about in action? Not very good either, the New Plugged Fire cartridge (NPFC) is poor in design as the prima is not easy to install perfectly. If the prima is not perfectly sit on the bottom, it may lead to mis-fire when you are loading. I am not joking as I had experienced this before. And this is a common problem of Marushin NPFC. Be cautious when loading the cartridges. Blowback of this pistol is excessive for its rigidity as well. Contributed by direct recoil barrel, the slide is fully blowback when fired. But the frame is just not rigid enough to absorb the force, causing the slide to detach from the rail. I think a stronger main spring will solve this problem.
Anyway, courage of Marushin is appreciated, I think I will refinish the outlook of this gun rather than firing it. Or it may be broken sooner than I think. Looking forward for MGC to produce model gun version of this pistol, preferably the 1st edition.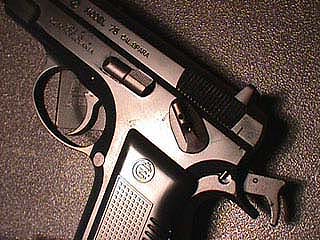 The grip, scale is fairly carried over to model gun CZ75 but attention of detail is absent


Real gun of CZ 75 is well known as an excellent quality pistol. It has every shadow from FN Browning Hi-power. In fact, Ceska Zbrojovka had improved John Browning's idea and ended up to this pistol which is internationally recognized. Packed with essentials of modern pistol like hi-capacity magazine, double action hammer, thumb safety and 9X19mm caliber, CZ75 has ultra-high accuracy to match. Learning from SIG P210, CZ has made the slide rail very long, nearly 4/5 of slide is guided by the frame. And it is internal rail rather than external (Colt Government is external), making the slide very stable during blowback. High stability contributes to minimal barrel movement. Thus high accuracy is achieved. In fact, accuracy of CZ75 equals Beretta M92FS and out-perform SIG P226 and Smith & Wesson M5906 according to GUN magazine from Japan. It is a modern SIG P210 in my eyes.

Now the CZ75 is discontinued and replaced by CZ75B. Apart from slightly reshaped frame and slide, round hammer and polymer finish, others features remain untouched. CZ75's concept is copied by many other manufacturers. Like P9 from Springfield Armory, 10mm Bren-Ten, Swiss AT84S, Tanfoglio TA90, Israel Jericho 941 and Baby Desert Eagle .40 are variations of CZ75. If CZ75 is not a good enough pistol, why people are copying it?
| | | |
| --- | --- | --- |
| | CZ | Marushin |
| | Model 75 | CZ 75 ABS |
| Caliber | 9mm X 19 | 9mm X 19 |
| Length | 203mm | 200mm |
| Barrel length | 4.56 in | 4.56 in |
| Weight | 970g | 600g |
| Capacity | 15+1 rounds | 15+1 rounds |
| Price | US$1000 | 12000yen |
Back to Pistols