Last update 12th May 2000
CL Custom G3 Sniper Version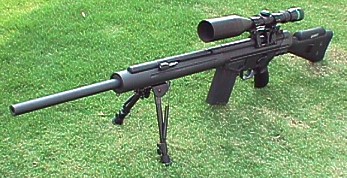 CL Custom G3 SV (Sniper Version), the best G3 we have ever seen.
The CL Custom G3 SV rifle is another G3 sniper rifle project. We have made numerous G3 sniper variances. This time, it is a bigger challenge. We have seen the real steel Springfield G3 sporter rifle from a magazine and we like the design of front hand-guard and barrel. Unfortunately, no one has made a conversion kit for the model. The most similar kit is the SR-25 kit made by PDI. That kit is built for M16 but not G3s. So here comes the headache. How can we stick the SR-25 kit, which is supposed to fit M16, into a G3 SG1?
Mission impossible? Not quite. With the skills of Clarence Lai, the result is shown in the pictures. The appearance of the gun is stunning too as no one has seen a G3 like this before!! The end product looks more futuristic and advance. And guys in DEN Trinity love it very much. To further match the SR-25 barrel kit, this G3 SV is fully metal built from tip to toe. So you do not need to worry about its structure and stiffness.

| | |
| --- | --- |
| A closer view at front | The front sight section is totally removed. It gives the front a clean appearance. |
How about internal? Off course this will not be missed. This gun is upgraded by CL Custom AEG001 upgrade set. It can shoot a 0.2g BB with a muzzle velocity of 450fps. To comply some gamesí regulation, this rifle can be tuned to 400fps using 0.25g BB. A standard 9.6v battery can be fitted in the stock. Capacity and ROF is not a concern here. Longest length PSG1 TN barrel is installed in this monster to supply the best power and accuracy. A Harris bipod is also installed.
We always use G3 for conversion base, as the version II gearbox is better for full auto firing. Converting stock PSG1 into full auto is a stupid move. Piston gear will be stripped easily (PSG1 has a longer piston) as the version IV gearbox is designed for semi-auto firing only. Thatís why our CL Custom PSG1 full auto (built a while ago) was based on a G3 SG1.




Shooting this monster is fun. The full metal body gives a very solid sound while firing. Thanks to the best body structure and full length high accuracy barrel, grouping is excellent. Donít forget that you are able to switch to full auto firing while situation requires. More choices is better than no choice.